Vatican Apostolic Library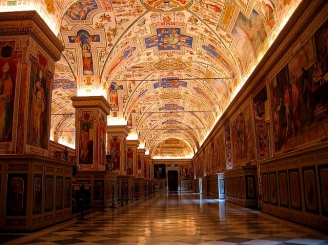 Rich library, founded in the 15th century by Pope Nicholas V, located in the Vatican. Within its walls are a unique collection of manuscripts of the Middle Ages and the Renaissance. Now the fund has about 1 million 600 thousand printed books, 150,000 manuscripts, incunabula over 8000, 300,000 coins and medals, engravings and maps. This volume of priceless relics difficult to imagine.
Since the 17th century there was a tradition to bring a gift to the royal library and private collections, and funds were enriched considerably the most valuable manuscripts in Latin, Hebrew, Arabic and Greek. Expedition delivered to the Vatican unique manuscripts from Egypt and Syria. Among the ancient texts of the library - the manuscript of Virgil, Aristotle, Cicero, Homer, Petrarch, Raphael and Michelangelo.
The main objective of the Vatican library sets the preservation of cultural heritage for centuries painstakingly collecting priceless materials worldwide.
Visit the library can only research purpose, the day it takes no more than 150 people. Bureau reproductions on request produces copies of the materials is also working lab. Opening hours of the library: on weekdays from 9:00 to 17:30.