Sistine Chapel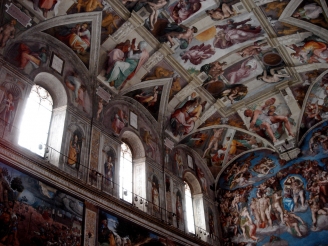 Sistine Chapel in the Vatican is a former house church. Was built in the period from 1473 to 1481 years by the architect Giovanni de Dolci for Pope Sixtus IV. Today Chapel is a great value as an architectural monument of the Renaissance. Within its walls are held conclaves - electing the Pope. Also in the Sistine Chapel Pope holds secret meeting.
Popular all over the world are the murals on the walls of the chapel by Michelangelo Buonarroti from 1508 to 1512. A few years later the Wizard perform another job - the Last Judgment fresco, which to this day takes on himself surprised admiring glances. Painting, which is called the vertex of Renaissance art, occupy nearly a thousand square meters of ceiling and walls of a huge rectangular building of the chapel.
The Sistine Chapel is one of the few places in the Vatican, open for public viewing. Entrance fee - 16 euros. Includes access to the most Chapel and the Vatican Museums. Tickets can be purchased in advance, including online - the official website, not to stand in the queue. Opening hours Case: 9 am to 16:00, museums are open till 18:00, Sunday - day off, but on the last Sunday of the month chapel and museums are open from 9:00 to 12:30 and take visitors for free. To save, you need to advance to queue before the opening. In the big church holidays closed input.